Low-Cost 2-Colour Label Printing System
The Godex EZPi 2-Colour label printing system offers an affordable solution for simultaneously printing labels up to 4" wide with two colours. This is achieved by using two EZPi series printers loaded with different colour thermal transfer ribbons to print the same labels in sequence. A special 2 colour print module is used with Godex Q-Label software to manage printing the relevant information on the correct printer.
The Godex 2 colour printing system is ideally suited to printing GHS (Globally Harmonised System) chemical labels on demand in a single operation. Other typical applications include pricing labels and labels with coloured logos. A wide range of coloured ribbons is available including UV ribbons suitable for printing security marks, barcodes and 2D codes readable with special UV code readers.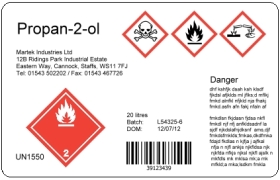 Models are available with 200 and 300dpi resolution.
High-capacity unwinder and rewinder options allow up to 200mm diameter label rolls to be used for long uninterrupted print runs. Ribbons up to 300m long can be used.
Ethernet, USB, and parallel interfaces are included as standard.
Q-Label software is provided free of charge which provides powerful yet easy to use label design tools.
You may also be interested in the Valentin DuoPrint 2-colour self contained label printer. Click here for more information.
Image Gallery
Click on image to enlarge