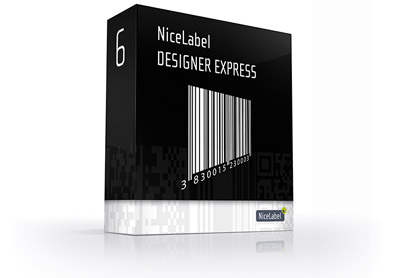 Key Features
All common barcodes
GS1.128 (EAN.128) wizard
All common 2D codes
Excel spreadsheet integration
Wizard based interface
Downloads

Entry Level Label Design Software
NiceLabel Designer Express is the most accomplished low-cost label design package available. The user interface features wizards for adding many elements into the label design.
All basic label design elements can be included in label designs as well as prompted fields, sequential numbering (text and barcode), automatic date/time stamps, standard barcode fromats (including GS1.128 / EAN.128) and a wide selection of 2D codes.
Basic Excel integration allows label data to be extracted from an Excel spreadsheet enabling a single label template to be used for many labels rather than creating individual label designs. Any changes to the design then only need to be made once on the template.
Label designs created with NiceLabel Express can be printed on all brands of label printer or desktop printer (laser, inkjet...) and are compatible with more advanced versions of NiceLabel.
Label designs can include:
Fixed text in any TrueType or printer internal font
Barcodes in all of the most common formats including GS1.128 / EAN.128
Most 2D codes
Sequential numbers as text or barcodes
Simple database integration using Excel spreadsheet
Graphics in all common graphics formats
Lines, boxes, circles and ellipses
Inverted print (white on black)
All label elements can be rotated in 90 degree increments

Image Gallery
Click on image to enlarge