GHS Chemical Product Labelling
The Globally Harmoised System (GHS) for chemical product labelling is being adopted internationally to ensure the same chemical classification and labelling system is adopted internationally. Existing EU symbols are mostly printed in black over orange squares are being replaced by a range of mostly 2-colour symbols on a white background.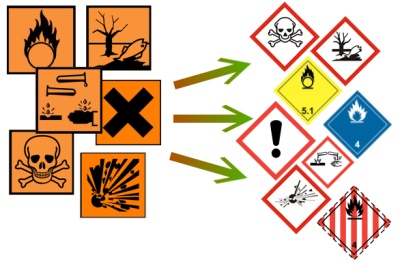 Companies wishing to print chemical products in-house have mainly used label templates with orange squares pre-printed where the EU symbols are placed. The symbol is then overprinted in black using a thermal transfer printer. Where symbols are not required the orange square is left empty or completely blacked out. With the new GHS symbols this cannot be replicated.
Traditional thermal transfer label printers can only print in 1 colour and are therfore not suitable for printing GHS labels. Other types of colour label printer such as inkjet based printers do not offer the water, scratch and chemical resistance required for chemical labels.
Thermal transfer techonology allows durable synthetic materials with a diverse range of adhesives to be printed using permanent chemical-resistant ribbons.
Martek provides 2 solutions for thermal transfer printing labels with 2 colours in one operation:
The Valentin DuoPrint label printer series includes two thermal transfer printheads in the same printer. DuoPrint label printers are available in 4" and 6" wide models with both models having ribbon saving on one printhead. Click here for more information.
The Godex EZPi 2-Colour Print System provides a low-cost solution for printing labels up to 4" wide with two colours. To keep cost to a minimum two standard Godex EZPi series printers are used to print the same labels in sequence. Click here for more information.