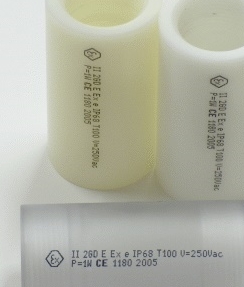 Key Features
High-speed non-contact printer
2, 3 and 4 line models
Porous and non-porous surfaces
1.5 to 14mm print height
Pigmented (opaque) ink model

Downloads

Industrial small character inkjet printer

Metal, glass, plastic, film, foil, extrusions ...

Fabric, cable, carpet, foam, wood, paper ...
The EBS-6200 series of continuous inkjet (CIJ) printers allows high-speed non-contact marking of virtually any surface - porous or non-porous. Text from 1.5 to 14mm can be printed as well as logos, barcodes and 2D codes. The EBS-6200 series includes standard and pigmented (opaque) ink versions suitable for printing with pale-coloured inks on dark surfaces.

The internal pump avoids the need for compressed air and keeps solvent usage to a minimum (400 hours of operation per litre). Two, three and four line versions are available with the option to upgrade to add extra lines of print as required.

The compact cabinet design allows EBS-6200 series controllers to be easily installed in confined areas whilst maintaining easy access to change fluids.

Specialist inks are offered for a wide range of applications including food-grade, water-based and a selection of pigmented inks for printing pale marks onto dark products.
Image Gallery
Click on image to enlarge